in
FILM
Friday, January 11, 2013 at 10:36AM
Don't Touch Me
by ALEX CARNEVALE
Jack Reacher
dir. Christopher McQuarrie
130 minutes
Tom Cruise does not touch anyone in Jack Reacher. He punches or kicks them if the occasion calls for it. For a mere moment he may press against his own arm or leg. Once, but only once and just for as long as it takes him to flash a smile, he grabs a woman and pulls her to a window. Then he instantly lets go. Most of all, he never strokes his own face, keeping his arms constantly slack, as if the plastic surgery that keeps him looking younger than his considerable years might suddenly fade away were he to draw his hands above his waist.
There is a philosophy in writing that it is important to be inclusive of all of the senses. There is a philosophy in Jack Reacher that it is important to focus on none except sight.
Reacher befriends a Pittsburgh lawyer named Helen (Rosamund Pike) who is defending an army sniper accused of killing five women and a man with a rifle. Her father is the district attorney. For some reason her dad informs his daughter that trying to defend this man is career suicide, because a defense lawyer taking a high profile case has never managed to do anything but harm her career.
The scenes between father (a whimperingly bad Richard Jenkins) and daughter are distinguished by the certainty that the two could not possibly by related, looking completely different as they do, and the fact that they, too, never touch.
Reacher does not drive his own car; sometimes he demands the cars of people whose arms or wrists he has broken. His attitude towards men is that he treats them like boys, perhaps as a preemptive measure to paint them with that brush before they have a chance to do the same to him. His attitude towards women is that of a white knight who must patronizingly protect every female he encounters. He calls any woman younger than him a girl, and any woman his age Helen.
To be fair, there are only two living women in Jack Reacher. Alive or dead, the determinative aspect of the women present here is that they are utterly helpless. After realizing she is the target of a dangerous conspiracy, Helen walks down a long hallway alone before she is tasered by a black man in an elevator. She is whisked away like Princess Peach; only the man who cannot touch her can find her.
tom mapother with director christopher mcquarrie
What happened to McQuarrie, the writer of The Usual Suspects, is what happened to his psychotic directing partner in that enterprise: Hollywood, impressed by the pair's (relative) ingenuity, commanded them to make an increasingly dull series of superhero films which make money abroad relative to their modest budgets. As if to throw off the yoke, McQuarrie pads Jack Reacher's score with moody, nostalgic music more along the lines of something you'd hear while accidentally tuning into TCM. There is also an extended silent car chase that is just unconventional enough to not be satisfying in either a new or traditional fashion.
But then Tom Cruise would feel familiar in any environ. Near the end of Jack Reacher Robert Duvall makes a cameo as the owner of a gun range where you can fire exploding rounds hundreds of yards at distance targets. It is a completely expected surprise, and Duvall is playing line-for-line the same character he played in Lonesome Dove for some reason. Like Cruise, that too was a carbon copy of several roles he played before. McQuarrie has always had a passion for giving his characters a particular flaw, with a rule that there is only one such malfunction per character, and it is referred to constantly.
Jack Reacher's most compelling character is a police officer named Emerson (David Oyelowo). He gets the film's seductive opening moments, the best part of its ridiculously long running time, before Reacher himself enters the picture. Later we are meant to wonder at length as to whether Emerson ordered the code red. (He did.) When Helen asks him why he did what he did, he tells her that he did not have a choice. Werner Herzog, portraying a survivor of a Siberian work camp turned underwritten criminal, forced him.
Steven Spielberg was the first choice for the role but he dropped out to make a movie about a heroic rabbit who fought in Vietnam.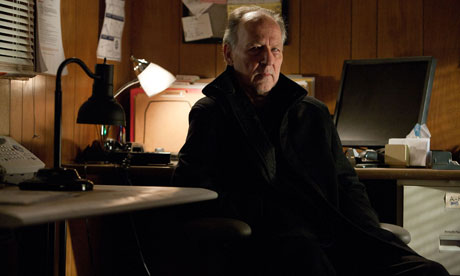 Despite its stunt casting and completely ridiculous plot, the humor in Jack Reacher is completely non-ironic. You would think this would come as a relief, but actually the jokes revolve around a singular concept: younger, larger men underestimate the penchant for violence of an ancient midget. When you consider these moments more closely, they do not make sense at all. In more than one scene Reacher has a weapon trained on him and the individual holding it decides not to pull the trigger or swing the bat. The subtle suggestion is that Reacher gets by more so on his own good fortune than any innate ability.
For an investigator, Reacher is remarkably lacking. No one uses an iPhone or a computer for any reason in Jack Reacher. Even legal documents are laboriously printed out in the same fashion as they were decades ago. In Tom Cruise's world, Adobe Acrobat was never even invented.
In the film's final scene Reacher drives his car backwards down a hill, slumped down in the driver's seat, as bullets surround him. Waiting in a nearby office is Helen. For some reason her starkly pale legs are unadorned, out of focus, tantalizingly at the edge of every frame. All else is darkness, the primacy of her sexuality is overwhelming. Evildoers and virtuous ones alike are neither repulsed or attracted to her. They ignore her presence as children on a playground stop themselves from examining the sun too long.
Alex Carnevale is the editor of This Recording. He is a writer living in Manhattan. He tumbls here and twitters here. You can find an archive of his writing on This Recording here.

"For Once" - Ra Ra Riot (mp3)
"Binary Mind" - Ra Ra Riot (mp3)