in
FILM
Wednesday, March 25, 2009 at 11:03AM
City Porn
by FERNANDA DIAZ
Tokyo!
dir. Michel Gondry, Leos Carax, and Bong Joon-Ho
To attempt to label Tokyo! as the latest in the genre-franchise of city porn created by Paris, Je T'aime and the upcoming New York, I Love You is to miss the point. As an urban romantic, I was at looking forward to a similar production with Tokyo-fetishizing monologues or time-lapse scenes that exposed the "zany energy" of the Japanese capital. But Tokyo! delivered a different kind of love letter to its namesake through three surrealist vignettes that are actually more like breakup e-mails, simultaneously asserting independence and lamenting a looming loneliness. Perhaps this is because Tokyo is not an easy city to romanticize--at least not compared the the more obvious process of zooming in on the glossy grit of a New York or a Paris, or even a Mumbai. Tokyo's clusters of bright neon signs and otherwise slate-colored landscape are familiar enough that one can pick it out of a big-city lineup, but, let's be real, Sofia Coppola might be disproportionally to thank (blame?) for that.
Also to thank/blame for my fantasy of just walking around Tokyo sullenly for a week like ScarJo did.
On the western pop culture objectification scale, Japan's capital city is quirky enough to be used as a plot point, yet impenetrably foreign enough to prevent all-out adoration. Tokyo! fits correspondingly in that same spot, and since none of the three films were made by Japanese directors, using that scale seems appropriate. (It's also worth noting that actual French filmmakers were wildly outnumbered by American ones in Paris, Je T'aime).
Regardless, to watch Tokyo! is to realize that it's a far simpler task to idolize our cities all out of proportion than to truly try to understand their impact on us. In Tokyo!, all three directors seem to have silently agreed to this challenge. The film itself is not difficult to love--and it's taken me this long to mention that it's definitely really good--but its merits can only be measured once you figure out that it didn't take the easy way into the city's psyche. Either that, or Tokyo is just unavoidably depressing.
French directors Gondry and Carax and Korean Joon-Ho.
"Interior Design," Gondry's short about transformations and new beginnings, is the film's most obvious draw. It is also the most cheerful of the three stories, but considering the protagonists of the following two shorts are a chaos-creating sewer-monster and a man who hasn't left his apartment for eleven years, the few hints of playfulness seem monumental in comparison.
In "Interior Design," a young couple moves to Tokyo, he an aspiring filmmaker, and she of the much-relatable "not sure yet" category of 20-somethings who squat on a friend's tiny couch (which is tinier in Japan) while pretending to apartment hunt and actually just staying in and cutting pictures out of magazines all day (kind of like what everyone does on Tumblr!).
The Japanese Lelaina Pierce?Curiously enough, "Interior Design" is adapted from Gabrielle Belle's Manhattan story, "Cecil and Jordan in New York," and yet it is the highlight of the film, either defeating the point or making it. I'm not sure which -- it is tempting to qualify it as an inherently Japanese tale with minuscule apartments and careers in origami gift-wrapping, but those are just the details. At the core is a universal identity crisis for which the city has no answer, and a transformation that takes her further away from its streets.
Leos Carax's short "Merde! " is a take-it-or-leave it absurdist horror story about a crazy (caucasian) dude in a green suit who comes out of the sewers to terrorize Tokyo with grenades and face-slaps. My brother swears it's an allegory for the Rapes of Nanking, but I just fixated on how the monster reminded me of Heath Ledger's Joker.
I would argue that the city itself is most central in Carax's short, as the Japanese newscasters, protesters and lawyers unite in a fixation with this creature and in defense of their fellow citizens. (I don't like elaborating on movie plots because review spoilers bother me, so I won't go further into it).
Carax: Basically, it doesn't have much to do with Tokyo...I could've made it in any big, rich city in the world.
The final short is the most Haruki Murakami-like one -- really the only Murakami-like one, but I am limited to him in my Japanese author knowledge and so it is the comparison I must ignorantly make. "Shaking Tokyo" is about a hikikomori, an individual who lives in isolation and has completely withdrawn from an outside life, who gives it all up after a slight glimpse of a delivery girl's garter belt.
It must be the opposite of love to retreat entirely from one's city, to reject it as a home and see it only as a place from which to hide. But ultimately it is Tokyo's own earthquake that literally and figuratively shakes the film's hermit out of his apartment cave, indirectly changing his life.
While writing this, I almost forgot that there's actually quite a happy medium between the initial excitement visible in the title and the seeming widespread despair of the stories: the enjoyable viewing experience. Even deep in the characters' crises and confusion, the tone in all of the shorts is of half-joking, and there is never a sense that the filmmakers are taking the subject matter too seriously.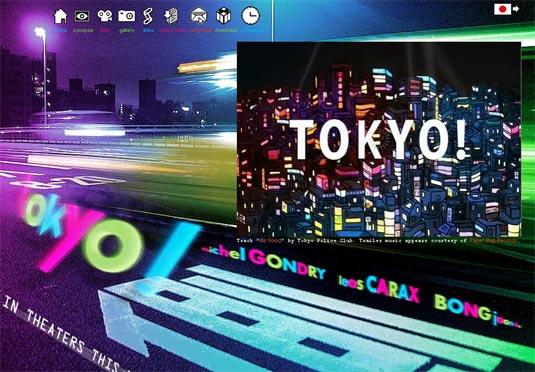 head hurting I put on the Lost in Translation soundtrack for inspiration, and after two loops, I realized it was making me want to kill myself. The spacey monotone of the music and the gray loneliness of Tokyo! were too much all at once. But I turned the music off, and screened the film through my mind yet again, realizing that what lacked in romance it made up in explicable magic that might not necessarily be optimistic but is still beautiful, and actually quite fun.
Fernanda Diaz is a contributor to This Recording. She is a writer living in Manhattan, and she tumbles here.
"Happy Up Here" - Röyksopp (mp3)
"I Love The Unknown" - Clem Snide (mp3)
"Girls" - Death in Vegas (mp3)
"Alone in Kyoto" - Air (mp3)