Thursday, January 10, 2008 at 11:07AM
More Endearing Than Alarming
an interview with Julie Klausner and Jackie Clarke
by Tyler Coates
Most might think that the word "obsessed" applies to those awkward, weird, and slightly maniacal creeps we knew from middle school or our first couple temp jobs. Luckily, Julie Klausner and Jackie Clarke are around to dispel that myth: obsession lurks inside all of us, and is more endearing than alarming.
BFFs and comedy partners Julie Klausner and Jackie Clarke aren't strangers to sharing their obsessions on the stage; Klausner previously co-wrote and co-starred in Free to be Friends, a tribute to The Magic Garden, the classic '70s children's show. Clarke starred in Showgirls: The Best Movie Ever Made, Ever!, a send-up of the unintentionally hilarious 1995 film. The two teamed together for their current show, armed with PowerPoint, some hilarious short films, and special guests to talk about their own obsessions (past guests have included Janeane Garofalo and Fred Armisen).
In the following interview, Julie and Jackie discuss their show, their fans, and their favorite obsessions.
TR: Is there a romantic story about your collaboration? How did the two of you meet and ultimately decide to work together?
Julie Klausner: Jax and I knew each other from the UCB Theatre. We'd been in a couple of shows together, and I was always a fan of her work. After a performance of a St. Patty's Day show in which I played a leprechaun (and took the character in a really exciting new direction), I asked her if she had any interest in hosting a variety-type show. She said yes and my heart leapt. This is the romantic version of the story. Anyway, we tried out a format at Parkside Lounge where we were playing sort of character versions of ourselves, and the show was themed, and then we both got busy with our own projects--Jackie with Showgirls and me with Free to be Friends. Then, about a year later, we reconvened and talked about doing something on the theme of obsession, maybe with a different angle on the show each month, and that's how Obsessed came to light. A couple of months into hosting it, we decided to start making videos together, and acting as writing partners towards various ends. (Rear ends.)
Jackie Clarke: I wish there was a romantic story. Like I went to church one morning and I found a comedian wrapped in swaddling clothes. I raised that comedian as my maid and made her do shows with me. Nah, nothing that fun. We met, we liked each other, we did a show. No Jesus story for us. Boo!
TR: Is there a message behind Obsessed? Are you making some sort of statement about the nature of obsession?
JK: It's an adaptable enough format that guests can sort of do whatever they like with the theme. But I can tell you personally, that I've always been obsessive, from growing up taping every Monkees episode that came on TV to stalking boyfriends, and by "boyfriends" I mean Peter Tork, whose skin I will one day wear as a three-piece suit.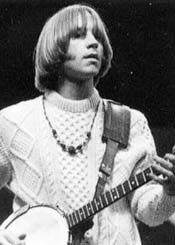 Peter Tork
JC: The message behind Obsessed is come to the show, watch our videos online, and hire us as writers, actors, or party guests. I actually knew a guy that did that... he was hired to "make conversation" at parties. How badly do your friends have to suck that you have to outsource a conversation master(bater).
TR: Who have been your favorite guests and what were they obsessed with?
JK: Seth Rudetsky is an amazing guest. He's got a fantastic video collection of theater and variety show rarities, so he's like a kindred spirit who knows a lot more than I do about stuff. And when he shows a clip, he's seen it so many times that he can time out the minutia he points out to the audience, and they eat it up, whether or not they have any investment in, like, Bonnie Franklin's Tony Awards performance of "Applause." 'Cause his enthusiasm for the material is so engaging.
Dave Hill was also a great guest. He flirted with us, which I appreciate. And Sweetie, this last month, gave an overwhelming lip-sync performance of Natalie Cole's cover of "Lucy In The Sky With Diamonds," on request, because I'm obsessed with that song.
"Lucy in the Sky with Diamonds" - Natalie Cole (mp3)
JC: I always say my favorite guest is me. I never know what I am going to say month to month. Besides myself I would have to say Seth Rudestky, a Broadway encyclopedia and all around adorable, the Brooklyn parrot man, a guy trying to preserve Brooklyn parrots (who knew!), and I always love getting a crazy drag queen at the UCB. Nothing makes me happier than seeing a 6' 5" blond drag queen wandering around the UCB green room and the look of shock and fear that enters the eyes of all the straight men who roam there. It makes my day every time.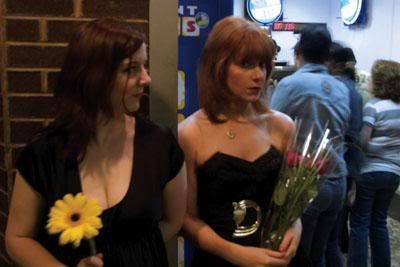 TR: Who are your dream guests and what do you think their obsessions might be?
JK: John Waters, hands down. He's sort of the inspiration behind the whole show, from that quote of his "Life is nothing if you're not obsessed." His books are fantastic chroniclers of his passions: electric chairs, sexual perversions, the Mansons. He's a fascinating guy, and a hero of ours.
Other dream guests include anybody famous, because those tend to attract crowds, and somebody with a creepy collection or a fan club president of somebody unusual, like Meredith Baxter-Birney. And John Mark Karr. And his new wife, a woman! I'd love to have the Karrs on. We could interview them like Barbara Walters interviewed the Beckhams.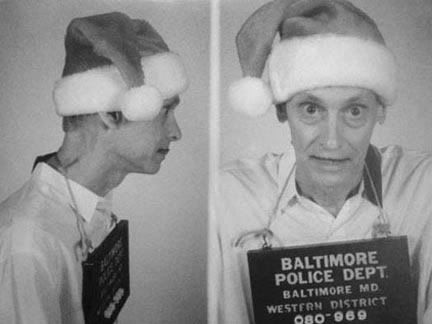 John Waters
JC: Julie and I both are obsessed with John Waters. He is masterful at being obsessed with things/ideas and exploring them without looking down on the subject. I would like to have someone who has spent a lot of time in jail. I would also like to date someone who has spent a lot of time in jail.
TR: What are some of your life-long obsessions, and what are some recent obsessions?
JK: Lifelong obsessions of mine include musical theater, cats, TV from the 1970s, men unable to love me, and food. Recent obsessions include my ever-intensifying hatred of vegans & raw foodists, Sharon Stone's fur-wearing, the stripper who wrote Juno, and Christmas.
JC: Long term obsessions: Bob Fosse, feminists, swearing, fart jokes, red wine, self-help books, Las Vegas, Boston Red Sox, the New England Patriots, "The Young Ones," steam rooms, moisturizer, "The Book of Lists." Recent obsessions: The cable news channel NY1's 15th anniversary "music videos," the Staten Island Ninja Burglar, the way Tom Brady licks his fingers before a play, Brussels sprouts, The Wire, Decision 2008, the Boston Celtics, and the bearded guy in the NFL Network ads.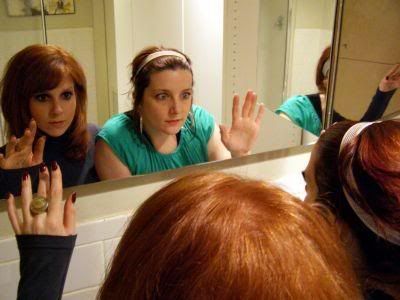 TR: What is the strangest obsession you've ever encountered?
JK: I don't know about strangest, but I am totally fascinated by eating disorders, and I collect information about odd eating habits that sufferers accumulate, like anorexics who only let themselves eat seven peas, or people with Pica, who eat dirt or clay. I also read the poetry that girls write on Pro-Ana sites. I'm not saying it's funny! I'm just saying it's fascinating. (It's also kind of funny.)
JC: My dad was obsessed with World War 2 and marrying women that looked like men. That was pretty weird.
TR: Both of you have performed at the Upright Citizens Brigade Theatre before teaming together for Obsessed. Does the show incorporate a lot of improvisation, or do you plan much of what you talk about before hand?
JK: We beat out the show as much as we can, and the Powerpoint is there on the screen for us to refer to. But by no means are we going from a script of any kind. The show has room for a lot of improvisation.
JC: I always say our show is like a good vacation: you want to plan an itinerary and be able to abandon it at a moment's notice. Guess what? I don't "always say that." I just made it up. But I love it! I'm gonna marry it.
TR: Can you talk about "Welcome To Our House" and explain the inspiration behind the videos?
JK: Jackie and I found out about Brenda Dickson's lifestyle video, "Welcome To My Home," when we saw a clip of her on Court TV giving the "Heil Hitler" salute during her divorce trial. Once we watched the video in its entirety on YouTube, we realized that we had to spend our lives re-enacting this amazing woman's vision as true to it as we possibly could. I was just crying during the fashion show and the eating part, when she's holding her cat, Snow. I thanked both the Comedy and Gay Gods above for putting Brenda into my life.
JC: We were high when we decided to do the videos.
"Start the Show" - Common feat. Kanye West (mp3)
TR: You both submitted audition tapes for the Oxygen reality show She-larious, which you then lampooned with your own video. Did anything come out of this, or was it really an opportunity to poke fun at the premise of the show?
JK: I don't think that show ever happened, and I don't think the world has since suffered for its lack of another competitive reality show.
JC: That Oxygen show taught me to trust my instincts: "don't audition."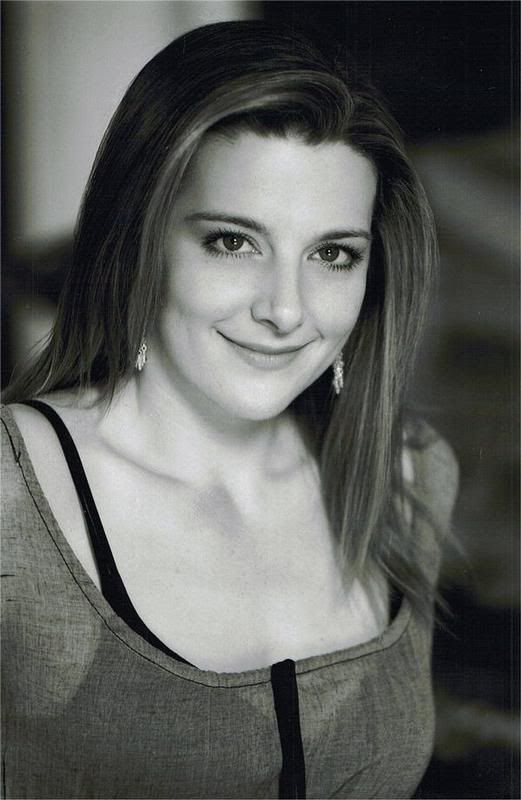 TR: You're both bloggers (Julie and Jackie), and you have several videos posted on YouTube. Have you have any particularly nutty reactions to your stories and videos? Any potential Internet stalkers?
JK: Just those awesome teenagers who've started posting their own tributes of our videos! I love those girls. If it weren't for that pesky Megan's Law, I'd hang out with them all the time.
JC: Any time I appear on Hannity and Colmes, I get some crazed conservative sending me death threats. But I don't live in Idaho so I'm not worried.
TR: As comediennes, are you pressured to be funny all of the time, even when you're not on stage, or are you just constantly hilarious?
JK: I am funny all the time. There is no pressure.
JC: I'm funniest during coitus.
TR: What are your future plans for Obsessed, other collaborations, and solo projects?
JK: We're gonna keep Obsessed running at UCB monthly, and will hopefully continue to do fun things together in the new year. Unfortunately, because of the writers' strike, the whole industry is pretty much on hold, so it's hard to say what's next. But as for solo projects, I can tell you that I just wrapped a shoot for a series I'm doing for Superdeluxe.com with my friend Michael Kupperman. It's called "What's What," and we hope to finish up by January. And otherwise, I think I'm going to take a cooking class.
JC: As for me, I'm working on a cartoon spec based on an earlier solo show called "Mail Order Family." I'm also hoping to finally get my apartment done (after living here for eight years).
Catch Obsessed on January 17 at 9:30pm, at the Upright Citizens Brigade Theatre in New York. You can visit Julie and Jackie's official site here.
Tyler Coates is the senior contributor to This Recording. He is obsessed with muppets, LOLcats, and Beyond the Valley of the Dolls.
Obsessed with Julie & Jackie links:
"Welcome to Our House" on Channel 102
Seth Rudetsky's Obsessed segment
PREVIOUSLY ON THIS RECORDING
The most bizarre thing Molly has ever seen.
Molly on For Better or For Worse.
Bob Creeley in Southeast Asia.